Mark Jenkins -- PowerPC "lamp" iMac G4
$600*
*Special conditions of sale, apply, please read and ask.
The "lamp" or "sunflower" style PowerPC iMac, in my opinion has the most distinctive form factor of all the PowerPC Macintoshes.
Here is Steve Jobs launching it in 2002. "This is the official death of the CRT today!"
I believe it will be a highly sought after collectible for years to come. Below is lawyer Andrew Weissmann appearing with his on TV in 2023.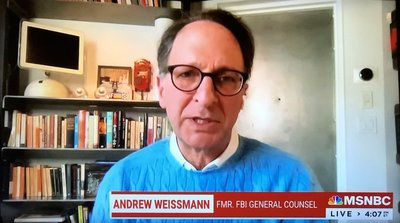 Though my sales table is a moving sale, this Macintosh I am highly reluctant to part with. As such, my asking price is relatively high for the model and condition. You can do better on eBay.

I am selling this under *special conditions which differ from my other items. The previous owner had personal files. I need to give the hard drive a full erase before it changes hands. As such, if we make a deal I will take it home, erase it and later provide free delivery within Winnipeg. Cash payment on delivery.

Other notes:
If it's not already clear, this is a collectible retro computer, it is not suitable for day to day life in 2023.
As per above, will be demoed with OS, but handed off erased. Mac OS X install media is not included. You will have to obtain that by other means. I am not able to provide install discs.
I have the original "pro" speakers that came with it. (not in photos) They work great. The internal speakers are not sounding good. I was confused about this and said the external speakers didn't didn't work in the original ad
Apple keyboard and mouse not included. Works with any USB keyboard and mouse. On PC keyboards, the Windows key does the same as the "command"/"apple" key.
The hard drive is a PATA/IDE hard drive.
The original PRAM battery has been removed.