Mark Jenkins -- Laptops
Dell Latitude D610 + spare for parts
$60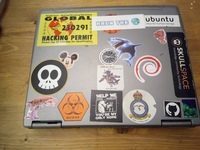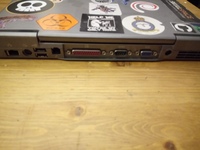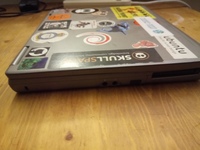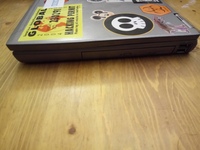 Heavilly stickered, this laptop features a 32bit Pentium M and 1.25 GB of DDR2 memory. A piece of Skullspace history, this laptop cracked an important password!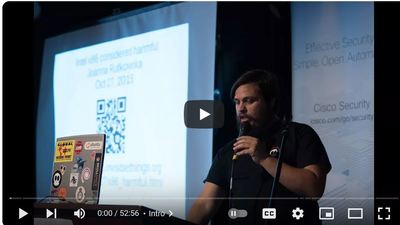 Mark at the LongCon with the D610 in 2017

This isn't a computer you'd want to use for day to day computing today. It's a portable collectable representing the end of the 32bit era. Perhaps its best use today is a test bed for 2.5" laptop PATA/IDE hard drives and DDR2 SO-DIMMs.

Additional details:
Included is a spare D610 (not functioning)) which can be used for parts. (not shown in photos)
The F5 key cap is missing
32 bit Pentium M 1.6 Ghz with PAE
DDR2 1GB + 256MB
CDRW + DVD reader
30GB PATA/IDE hard drive, erased. No OS installer included. (Time permitting, I may add a add a GNU/Linux install before sale)
Power supply included, not shown in photo (a different one appears in the background).
Two dead battery packs included. (not in photos). Connecting them not recommended unless refurbished with new cells.
Dead internal CMOS battery inside
Not suitable as a daily driver in 2023.
TTX M3000Np (Asus)
$40

This heavilly sticked laptop works, but comes with a lot of defects. It is not suitable as a daily driver in 2023. Treat as a retro collectable or as useful for distinctive external connectors (see below) or as a DDR1 SO-DIMM test bed.

It's a "whitebox" laptop -- Canadian company TTX played no role in the design and just added parts. The real OEM is Asus.

Born free, this computer never had a Windows install and the time of sale and actually came with a discount for that choice. You won't find a license sticker anywhere on it!

Notes:
32bit Pentium M 1.5Ghz, no PAE
512MB DDR1. SO-DIMM slot very servicable.
The hinges are busted. Lean the open LCD against something or use an external monitor. See additional note below.
CDRW+DVD reader
Neoprene sleave included
Power supply included (not in photos)
CPU fan is very servicable for cleaning
No PATA/IDE hard drive included. Original tray, screws and connector adapter are included, so adding a hard drive or compact flash should be possible. Or, just run live-media from USB or CD! Very servicable HD bay
External connectors: 4xUSB, mini firewire, VGA, parallel printer, IR, 100Mbit ethernet, headphone, line-in, soft modem, CardBus/PCMCIA-5.0
Many of the keyboard keys do not work. It has been suggested that contact cleaning may resolve, until then, use a USB keyboard. An ordered spare keyboard is installed. The original is also included.
Original battery pack included, but is dead and should not be re-connected without full cell replacement refurbishment.
Has a wifi add-on module inside, but not one from the Intel "Centrino" family. The wifi chip present was flashed with a special firmware that made it compatible with older GNU/Linux distros. It may not work with later distro releases or Windows.
Dead internal CMOS battery inside
To repeat again, not suitable as a daily driver in 2023.
The busted hinges may be repairable with some 3D printing. I recall the failed part being a plastic rectangle with holes which held metal parts of the screen hinges and case together by screws.
Toshiba Satellite 1800
$40
For your retro interest. Not a suitable daily driver in 2023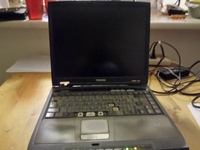 Intel Celeron 796.8Mhz (Pentium III generation). Original CPU died of overheating, replacement was installed via ZIF socket!
512MB RAM (SDRAM)
Missing many keycaps, but keyboard works
28GB PATA/IDE hard drive with a Debian 7 installation
Loose and exposed hinges
Dead battery, original pack included
No wifi
Exposed hinges with a very loose feel at times
Original power supply included (not shown)
Composit and S-video connectors
Padded black sleave included (not shown)
3.5" floppy drive